Ghum Hai Kisikey Pyaar Meiin actress Aishwarya Sharma along with 13 other celebrity contestants are shooting for Rohit Shetty-hosted Khatron Ke Khiladi 13 in Cape Town, South Africa. The actress quit the Neil Bhatt, Ayesha Singh starrer show after which she got a chance to explore herself in the reality TV world and challenge herself to face and overcome her fears. Aishwarya was a part of Ghum Hai Kisikey Pyaar Meiin for more than years before quitting it a couple of months ago. And here's how she reconnects with them when she misses them.
Aishwarya Sharma has a reunion with the Ghum Hai Kisikey Pyaar Meiin cast while shooting for Khatron Ke Khiladi 13.
Aishwarya Sharma is in Cape Town away from her actor husband, Neil Bhatt and her family. The actress has a family in Ghum Hai Kisikey Pyaar Meiin cast members and would surely miss them. The actress will be used to seeing them and vice versa. And recently they reunited over a video chat with the actress. Neil Bhatt aka Virat, Vihaan Verma aka Mohit, Sneha Bhawsar aka Karishma and Sheetal Maulik aka Sonali Kaku was also a part of the group chat. All five of them are laughing and smiling.
Vihaan aka Mohit of Ghum Hai Kisikey Pyaar Meiin shared the screenshot on his Instagram handle and wrote, "smiles and laughter all the way.' and tagged the five of them. Aishwarya reshared the story on her handle with three red heart emoticons. Aishwarya has been very close to all of them. She considers Vihaan as her brother while Karishma as her young sister and Sheetal as her BFF and confidant. Check out the snapshot of the GHKPM cast reunion with Aishwarya below: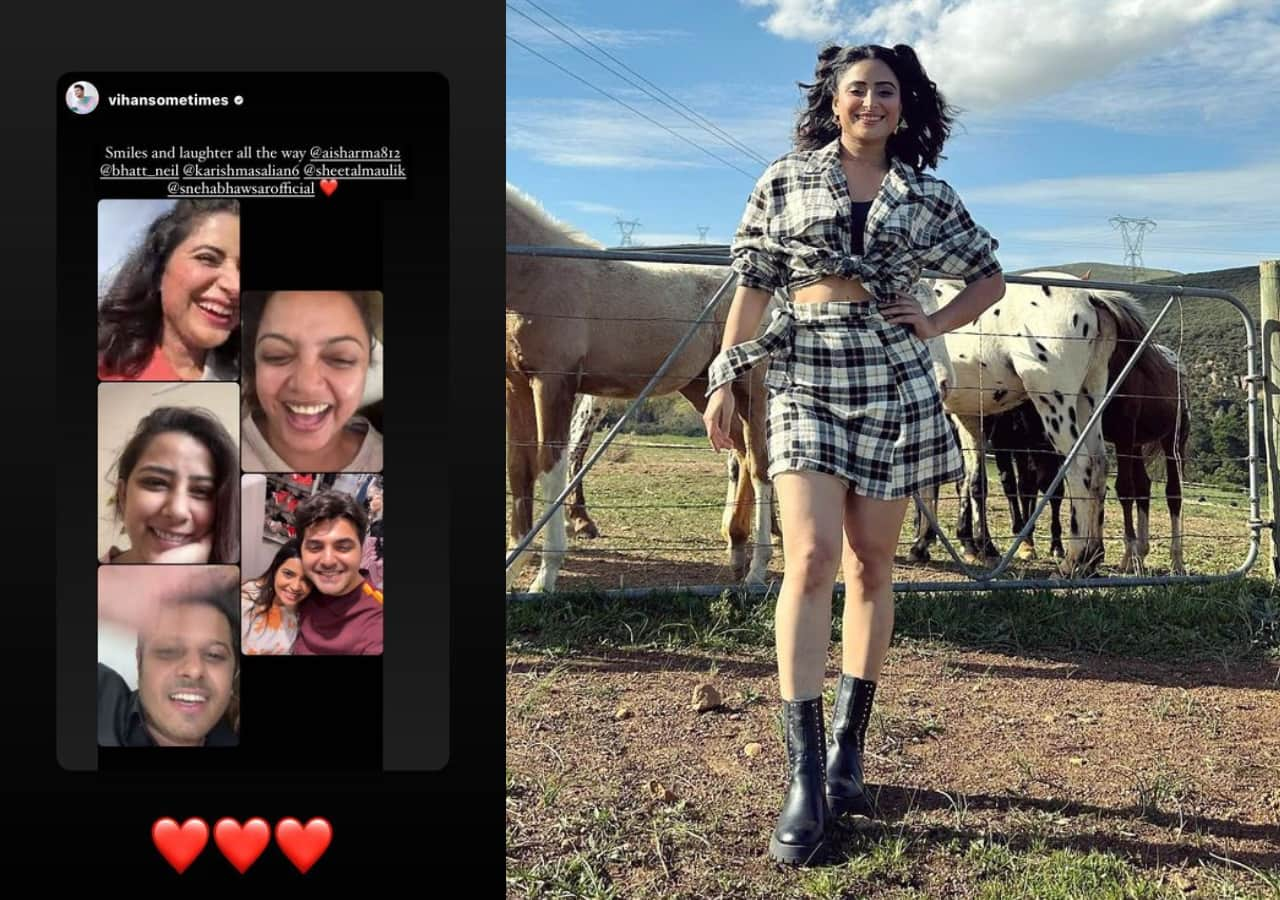 It was earlier reported that Aishwarya quit Ghum Hai Kisikey Pyaar Meiin because she got a offer for Khatron Ke Khiladi 13. The actress clarified that it was not the case, she was offered Khatron Ke Khiladi 13 after she quit the show. The actress revealed the reason for leaving the show being that she was bored of doing the same thing on-screen and had her fill of Pakhi. In other news now, it is said that Ayesha Singh, Neil Bhatt and Harshad Arora are also going to quit Ghum Hai Kisikey Pyaar Meiin. Reports are rife that they will make way for the new generation.
Aishwarya has joined Anjum Fakih, Sheezan Khan, Shiv Thakare and more celebs on Rohit Shetty's show.